Adam Ďurica and guests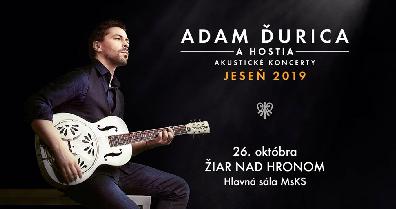 26/10/2019
19:00

 MSKC / Main Hall
SNP 119, Ziar nad Hronom
After the great success of the spring tour, which is already sold out, Adam Ďurica decided to add concerts in seven other cities to which he and his guests will visit in the autumn.

The first stop of the autumn part of a few day line will even be Brno, where Adam will perform on October 24th. Followed by the cities of Senica, Žiar nad Hronom, Košice, Poprad, Rožňava and Bratislava. Adam's biggest hits are the same at the concerts: Mandolin, Together, I do not regret, but also mega successful newer songs like Long ago, Holubicka, Jezero. Since it will be an acoustic concert again, all songs will get a whole new look and you will be able to enjoy them as you have not heard them before. In every city you will be surprised by the guests we will reveal soon!

Enjoy a pleasant music evening and enjoy your favorite songs in brand new arrangements.

Important Warnings! Your reservation is valid 3 DAYS! After this date, the non-collected tickets will be released back to sale! 3 DAYS BEFORE THE EVENT IS NOT POSSIBLE TO ORDER THE Tickets BY www.mskcentrum.sk All reservations will be canceled on the day of the event!