BEER FEST 2019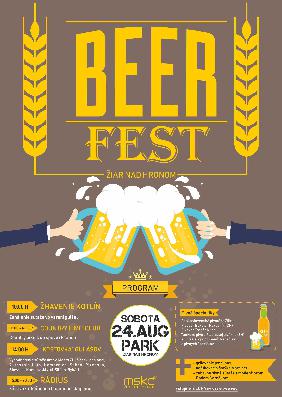 TIME AND PLACE OF ACTION
08/24/2019
10:00
Park Š. Moysesa
Park Š. Moysesa
2:00
A lively festival of beer, goulash and good music is here again after a year! Do not miss the traditional favorite event associated with a goulash cooking competition. It will be cooked for you by the City of ZH, Žiarski deputies, Luto Driving School, Hospital, Sakon, Pilsen, Slovalco, Wolves of Handlov, Sitňan, Fishermen …
Beer specialties from home craft breweries, dozens of popular beers, grilling of trout, inflatable slides for children and entertaining beer competitions with the presenter await you
Radom Černákom. The excellent country band Country Limit Club from Prievidza and the popular Radius will play in singing and dancing.
The program:
10:00 h: BOILER HOT, start of goulash cooking competition
11:00 am – 2:00 pm: COUNTRY LIMIT CLUB, country group performance
14:00 h: KOŠTOVKA GULÁŠOV, evaluation of the competition in cooking goulash
3:00 pm – 8:00 pm: RADIO, favorite group performance
Program subject to change. The times given are for reference only.
Admission to the event is 2 Euros. Children up to 120 cm free of charge!