CITY FEST ZH 2019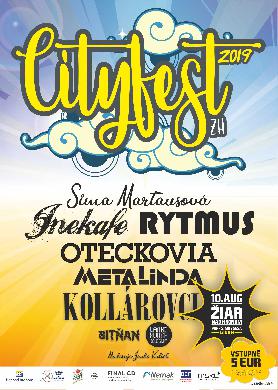 TIME AND PROCEDURE
08/10/2019
13:00

 Park Š. Moysesa

5:00 €
The biggest and most popular event of the heat region announces its 14th year!

The program:

13:00 - 15:00 h: OTECKOVA, autographing of popular serial "dads"

3:00 pm: KOLLÁROVCI, one of the most popular Slovak groups as a star at the beginning

16:45 h: Janko Kulich & Kolegium, folkrock storm from Žiar nad Hronom

6:00 pm: SIMA MARTAUSOVÁ & BAND, the most popular Slovak singer today

19:30 h: Žiarsky Zlatý klinec, appreciation of the artists

8:00 pm: Sitňan, a concert of a punk rock legend

21:00 h: RYTMUS, "king" of Slovak hip hop on City Road

22.30 h: OTHER KAFE, darlings Glow return with a show

00: 00: METALINDA, rock legends for the first time in the Glow with the biggest hits

The times shown are indicative only. Change Program Reserved!

Admission: 5 EUR

Children up to 120 cm, disabled, blood donors (from Janske plaque silver) free entry!