DAVID KOLLER: Acoustic Tour 2019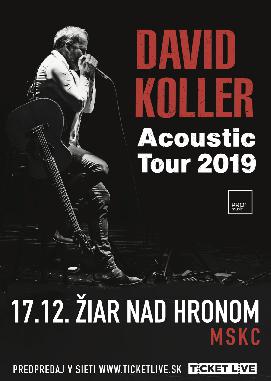 TIME AND PLACE OF ACTION
12/17/2019
20:00

 MsKC / Main Hall
SNP 119, Ziar nad Hronom
Singer of legendary band LUCIE returns to Slovakia with acoustic guitar and his Kollerband. Due to his great interest in his Acoustic tour 2019 he added 6 more concerts - he will perform in Bratislava, Košice, Lučenec, Martin, Nitra and in Žiar nad Hronom.

Last year LUCIE filled stadiums from Prague to Košice. After successfully returning to big stages she was also awarded Angel for her new album Evolution. David Koller, however, is not a musician who would now sit back and enjoy fame. With his son Adam Koller on drums and other Kollerband members, he returns to Slovakia to play all his hits like I Want to Sleep in You, America, or Recidiva in Chamber Acoustic Performance.

Acoustic tour concerts are exclusively for sitting. "I like when the concert closes, time is expensive. I have already checked several times that the listeners have it set up as I am; They will come to the concert to relax, listen to songs, forget about their surroundings and problems, "added the singer.

The number of tickets is limited because of sitting, so do not hesitate to buy them. Tickets can be purchased in advance through TicketLive.sk at the MsKC box office or here at TicketLive.