František and Vojta NEDVĚDOVCI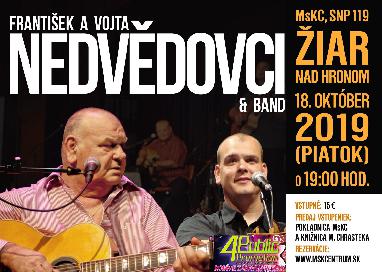 František and VN's program of František and Vojta Nedvědov, is about the continuation of Nedvěd's tradition after Honza left the scene. František Nedvěd decided to continue with the biggest hits of the brothers Nedvědov, but also his most famous songs.
Come and listen to your favorite hits: Stalls, Waltz, Scam, Roses of Paper, Jigsaw Puzzle, Constellations of Sparks, Nineteen Years, Nomadic Actors and other ageless hits.
Important Warnings! Your reservation is valid 3 DAYS! After this date, the non-collected tickets will be released back to sale! 3 DAYS before the event, tickets can not be booked via www.mskcentrum.sk All reservations will be canceled on the day of the event!
TIME AND PROCEDURE
18/10/2019
19:00
MSKC / Main Hall
SNP 119, Ziar nad Hronom