Müller, Kocáb, Soukup: Chansons and other songs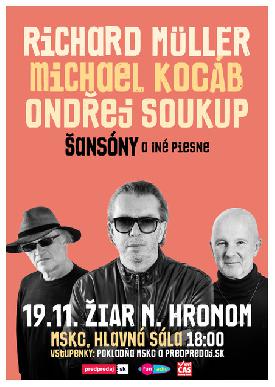 TIME AND PLACE OF ACTION
19/11/2019
18:00

 MsKC / Main Hall
SNP 119, Ziar nad Hronom
With this year's project "Chansons and Other Songs", Richard Müller will tour Slovakia and the Czech Republic together with guests Michael Kocáb and Ondřej Soukup. The concert program will consist of chanson songs from the author's workshop Hapka / Horáček, with the theme-bearing album V penzionu svět, in which in. 1988, among others, Richard Müller and Michael Kocáb excelled.
The program will feature less played songs from R. Müller's discography as well as proven hits in great arrangements of the top accompanying group.

Important! Your reservation is valid 3 DAYS! After this deadline, un picked tickets will be released for sale! 3 DAYS BEFORE THE EVENT It is not possible to book tickets through www.mskcentrum.sk On the day of the event all reservations will be automatically canceled!