Christmas Markets 2018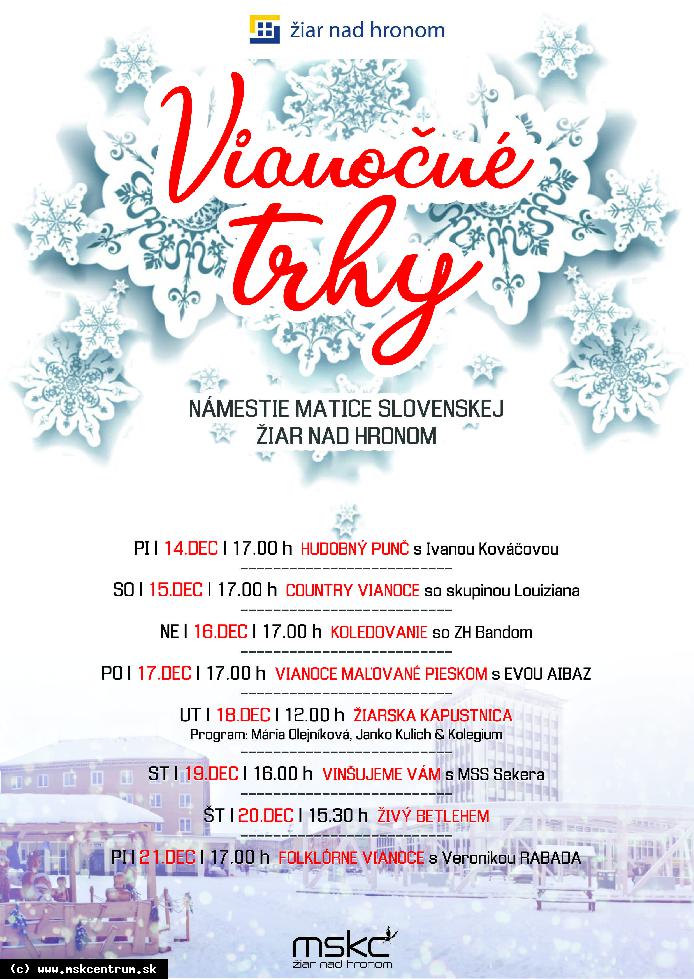 The town of Žiar nad Hronom and the City Cultural Center invite you to an interesting cultural program of the Christmas markets.
Friday 14 December at 5 pm: HUNTING POINT with Ivana Kovacova
A popular singer from Žiar nad Hronom returns home after years
stage with a mix of world and Christmas hits.
Saturday 15 December at 5 pm: COUNTRY VIANOCE with Louiziana
Acoustic performance of members of the famous Slovak country group
Louiziana full of well-known country and folk songs.
Sunday, December 16 at 17:00: COLLECTION with ZH Band
The most popular giant musical group and their "Czechoslovakian" hits in
Sunday party.
Monday 17th of December at 17.00: VIANOCE MAKED WITH THE EVIL AIBAZ
Unique Christmas program of talented artist from Petrohrad
schools with which she traveled around the world and after years returns to ours
towns.
Tuesday 18 December from 12.00 h: JAR CAPTAIN
Traditional competition for the best Žiarska kapustnice with musical program, v
which will be performed by singer and actress Mária Olejníková and Janko
Kulich & Kolegium with a christmas song program about gigantic villages.
Wednesday, December 19 at 4:00 pm: WE WANT YOU WITH MSS SECER
The most beautiful carols and christmas songs from all over Slovakia and our region
in the original submission of the male singer group Seker.
Thursday 20 December from 15.30 to 18.00: LIVE BETLEHEM
Repeated performance of the pupils of elementary school with MŠ Š. Moyses and the singer
the Holúbky of the Cross.
Friday 21 December at 5 pm: FOLKLÓRNE VIANOCE with Veronika RABADA
The performance of the Slovak folklore "wonders" you can see from the groups
Ruda or Kandráčovci with a new program of songs and collies.
PROGRAM CHANGE CHANGED!